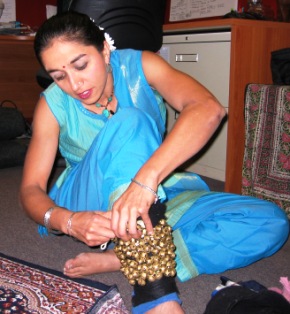 Jaysi was born in Chandigarh, India and raised in Plover, Wisconsin, the town with love in its heart, the home of Plover Potatoes. She took her first ballet class at the age of two and has been dancing ever since. Besides the usual childhood ballet, tap, jazz, and gymnastics, she has had extensive training in classical Indian dance and contemporary dance. She studied bharatnatyam with Shrimati Hema Rajgopalan for ten years and kathak with Pandit Chitresh Das for ten years. She also has been training in contemporary dance for over two decades and contact improvisation for several years. In the past couple years she has added tap, tango, and flamenco to her regimen. Lately she has been recognized as an emerging choreographer in the Bay Area. Internationally, she had the honor of performing at the Nehru Centre in London in 2010 and opening the Festival of the Arts for Non-violence and Tolerance 2011 at the prestigious Darpana Theater in Ahmedabad.
She's also musically inclined and loves literature. She studied western classical violin through the Suzuki method for ten years of her childhood and has been studying the tabla with Pandit Swapan Chaudhuri for nearly 20 years. Thanks to the tutelage of the late Ustad Ali Akbar Khan she's incorporating singing into her dance practice and is extending the tradition of kathak by including the kanjira which she has studied from Pandit TH Subhash Chandran. A chapbook of my poetry "Missus Rhesus and other poems" was published by the Writer's Workshop in Calcutta.
In spite of her artistic tendencies, she is a practicing physician trained in family and community medicine, as well as occupational and environmental medicine from the University of California San Francisco (UCSF). She graduated with a doctoral degree in medicine from the University of Wisconsin-Madison and earned a master's degree in public health with an emphasis in environmental health from the University of California-Berkeley. She enjoys caring for patients part time at the Tom Waddell Clinic for the Homeless. She also creates a podcast about prioritizing well-being, Nei Jing Now! and is the founder of a nonprofit focusing on primary prevention through healing, arts, action, humor, and medicine, Beyond Holistic.
A doctor by profession, a dreamer, dancer, and drummer by obsession, she is sometimes known as an AABBCCDDDD (Asian-American-bred and buttered, cross-cultural and creative, dancing, drumming, desi doctor).