I just re-read Cutting for Stone by Abraham Verghese. I finished it on a Friday night, with swollen bleary eyes from sobbing through the last 3 hours of the book. (What can I say, I'm a sucker for a tearjerker. But I cry in Hallmark commercials too.) In any case, the book was so rich and deep that I started the book all over again on Saturday, the very next day.
The book portrays the profession of medicine in a light that reveals the privilege it confers to serve one's fellow human beings. It reminded me of my love for surgery, while demonstrating the importance of listening with one's heart. The great tragedy of life, in all its beauty and horror, was shown with such delicacy that I cried through nearly the whole book. I loved how clearly Africa was connected to India throughout (confirming my mother's thesis that everything stems from India!). And it made me want to travel to Ethiopia, and Eritrea, to serve. When I get there I'll know the seed was planted by Verghese. Thank you, Abraham.
He says it best in the acknowledgments, "Medicine is a demanding mistress, yet she is faithful, generous, and true. She gives me the privilege of seeing patients and of teaching students at the bedside, and thereby she gives meaning to everything I do."
My only critique was that it only passes the Bechdel test on technical grounds. Though there were strong female characters throughout, and they were named, they didn't speak to each other about anything other than the male characters, except on three occasions. The first occasion was when Sister Mary Joseph is simultaneously birthing and dying, and Hema snaps her fingers at the probationer in the operating room and says, "And you, get your hands out of your pockets." 
The second time is still in the same scene, after the twins are born, Sister Mary Joseph has died, Stone has left, the probationer has opened the circumcision tray, and Hema pounces on her, "My goodness, girl, don't you think these children have had quite enough? They're preemies! They are not out of danger. Want the to be chip-cock-Charlies on top of all this?….And you? What have you been doing all the time, eh? You should've been worrying about their swallowing ends, not their watering cans."  Granted this second occasion is a longer speech, it still borders on being about the boys, but technically it is about the probationer's lapse in Sound Nursing Sense.
The third instance came after Genet's genital mutilation when Hema charges into Rosina's room accompanied by Ghosh and Marion. Hema asks Rosina, "What happened here?"  followed by "My God, Did you? Did you just….this poor girl? …You stupid woman!….Oh, God. God. Why?……You've probably killed her, Rosina, do you know that?"
Sadly, out of 658 pages these are the only three instances in which two female characters with names, (we only discover the probationer's name at the end of the book on page 652), talk to each other about anything other than a male character. (The conversations are actually one way, Hema scolding the probationer or Rosina.) Impressed as I am with Abraham Verghese's vivid writing, compassion for the complications of life, and his obvious humanity, I wished he would have been more realistic about how women interact with each other and the strength they give one another to live.  Hopefully his next book will portray real gender equity with the extraordinary wisdom he so clearly has about spirit of human relations.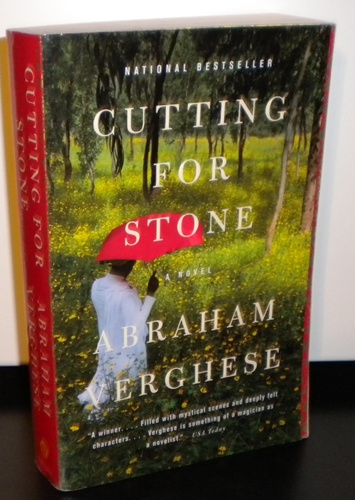 Continue Reading