Kathak in a new form
The intercultural performance was punctuated with poetry
Posted On Saturday, February 12, 2011 at 02:59:04 PM
The classical dance form Kathak was performed in a new style at SNDT college auditorium, in Ghatkopar, on January 27 by Dr Jayasi Chander. Titled 'Lamps on Lilypad' it was a contemporary, inter- cultural dance recital performed on recorded music but punctuated with poetry and story telling.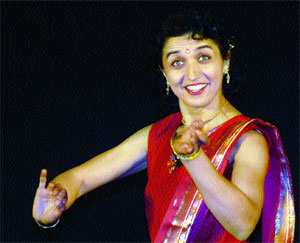 The audience comprising of students and staff of SNDT were surprised to see the talented dancer executing perfect footwork and simultaneously briefing them on the significance of each dance movement/ mudra with her poetry and tales.
US based Dr Jayasi, a doctor by profession and dancer by passion is on a short holiday to her home at Ghatkopar. Snehal B, staff from the college informed, "The management of SPRJ Kanyashala trust invited her to perform at our venue mainly because we wanted the young students to be exposed to contemporary Kathak dance."
While introducing the dancer, the anchor informed, "Dr Jayasi took 10 years of training in Bharatnatyam and got a two year scholarship to study modern dance with Zenon Dance company. She later trained at Chandan school of Kathak dance with Pandit Chitesh Das in the United States of America."
Briefing the audience on the significance of her performance, Dr Jayasi stated, "Kathak dance and North Indian classical music have developed over the centuries with strong Hindu and Muslim influence. My parents witnessed the bloodshed during the country's Partition.
Decades later when the Hindu Muslim riots broke out in Gujarat in 2002, I wanted to tell the world about the beauty and joy possible when people of different faiths come together to create rather than destroy."Lamps on Lilypad is thus her attempt to remind us of this feeling of religious tolerance with a sense of intimacy. The first show was premiered in 2003 in San Francisco. In 2008, it was presented in Pune.
Recently, students of SNDT Ghatkopar got a chance to watch this unique performance. Interestingly, each show has donated 10 percent of the proceeds to SHAMA, a non profit organisation dedicated to educating, employing and empowering low income women of our country.
Sources: Chembur Ghatkopar Plus