"And so you dance amidst sorrows, dance amidst wars, dance amidst deaths, and dance amidst goodbyes, dance amidst hellos, oh love, you dance your way out of school, dance yourself out of a profession, dance yourself out of a house, dance yourself out of the country, dance yourself out of your family, dance yourself out of money, dance yourself out of men, dance yourself out of yourself and be amidst of them. 
How perfect." – Jeff Sawyer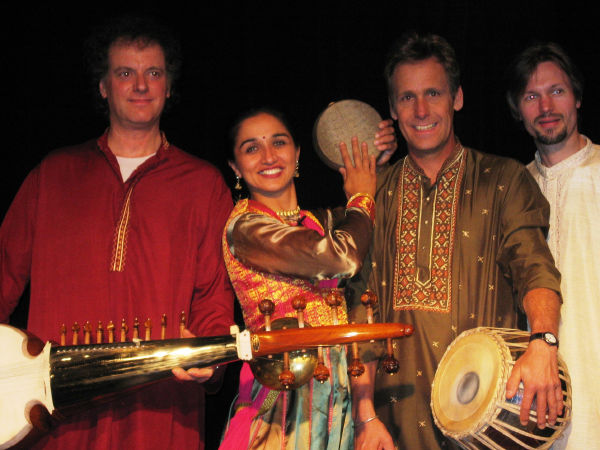 Does freedom bring peace? Does success bring happiness?? Is self blessing one of the elusive faces of love?
       Jypsyjays Productions presents the beloved Lamps on Lilypads, a contemporary intercultural performance of kathak dance, Hindustani music, poetry, and story-telling. Kathak dance and Hindustani music are classical traditions from North India. This solo dance theater piece explores various aspects of freedom and peace, challenges our definitions of success, and finally revels in Love.
    Lamps on Lilypads is performed by Jaysi as the dancer/kathaka (storyteller) and poet, accompanied by three musicians; Wallace Harvey on violin, vocals, mandolin, harmonium, and manjira; Ben Kunin on sarode and guitar; and Tim Witter on tabla. The artists have all been trained at the Chhandam School of Kathak Dance and the Ali Akbar College of Music. Lamps on Lilypads was conceived and created by Jaysi and is inspired by her aspiration to live in a peaceful harmonious world. She relates that when the United States began considering the invasion of Iraq, her inner minister proclaimed, "Speak now, or forever know no peace!" As the occupations and violence continue she knows it is vital to continue sharing this performance that is ultimately uplifting and inspiring.
    This show delightfully displays the magnificence of the classical technique while the expression, stories, and poetry are contemporary in theme and style. The spoken word includes the works of ee cummings, Galway Kinnel, Salman Rushdie, and original poetry by Jaysi. Traditional Hindustani compositions are juxtaposed alongside a ballad from Mexico and an Irish anti-war folk song. Classical Kathak choreography is tastefully intermixed with contemporary movement. The presentation explores many aspects of freedom, including freedom of emotion, freedom of imagination, freedom of speech, freedom of and from religion and how freedom relates to peace and communal harmony. The definitions of success in modern day society are questioned, and finally, Lamps on Lilypads revels in the myriad forms that Love takes.
"Exquisitely beautiful, its sheer power accesses the eternal and touches the core of one's humanity." – Vidhu Singh, Ph.D, theater director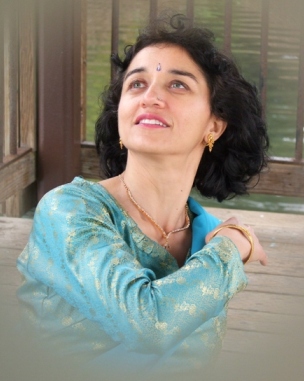 Kathak dance and North Indian classical music have developed over the centuries with strong Hindu and Muslim influences. Jaysi has always had a deep appreciation for the beauty created when Hindus and Muslims come together for the purpose of sharing joy. Her parents were refugees from what is now Pakistan into India. They witnessed much bloodshed and were very fortunate to have survived the partition of India in 1947. When the Hindu-Muslim riots in Gujarat broke out in March of 2002, Jaysi wanted to remind the world of the beauty and joy possible when people of different faiths and persuasions come together to create rather than to destroy. Lamps on Lilypads reminds us of this with a sense of intimacy and a very light touch.
    The piece premiered in San Francisco in November 2003 to a packed house. Since then it has toured the Bay Area and the Midwest in the Fall of 2004. It was translated into Spanish and shared in Havana in 2005 and in Granada, Spain in 2007 with encore performances in both places. Most recently it was presented at the Democracy Festival in Pune, India in 2008. The performers welcome invitations to share the piece again and again, considering it a great honor and pleasure.
    Lamps on Lilypads is consistently embraced by audiences worldwide. People feel moved, transported, and transformed. The artful diversity and deep energy of the work makes people laugh out loud, clap, cheer, and cry with the emotion, devotion, and love they experience.
    Each showing of Lamps on Lilypads has donated 10% of proceeds to SHAMA, Inc., a non-profit organization dedicated to educating, employing, and empowering low-income women in India, thereby improving their communities and the future for following generations. SHAMA also works to promote mutual understanding between people of India and the United States through cultural education and exchange. For more information see their website at http://www.uwsp.edu/multicultural/SHAMA/

The performers:
Jaysi – Kathaka/Storyteller
Wallace Harvey – Violin, Vocals, Mandolin, Harmonium, Manjira
Ben Kunin – Sarode and Guitar
Tim Witter – Tabla